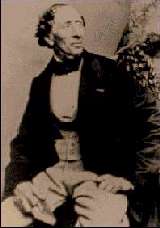 ANDERSEN, Hans Christian
Born: April 2, 1805, in Odense, near Copenhagen, Denmark
Died: August 4, 1875, in Copenhagen, Denmark
Hans Christian Andersen is considered the master of the fairy tale. Although the scope of this Danish author's work includes poetry, plays, and autobiographical works, Andersen is almost unknown for any work other than his fairy tales. He is the most frequently translated author of all time, but ironically, he never considered himself a success.
Born in the slums near Copenhagen, Andersen's father was a poor cobbler and his mother took in laundry to support the family. His paternal grandfather, who was mildly insane, and grandmother lived with the family. His grandmother told Andersen folk tales of horror, superstition and romance that would become the basis for his own stories. The greatest influence on Andersen's life, however, was his father, who challenged Andersen to rise above his social rank and to not be bound to a menial trade.
Andersen rarely destroyed anything he wrote. Thus, thousands of letters, diaries, novels, and poems remain to depict who he was: a man who grew up in the slums, an untalented actor, a mediocre playwright, a rejected lover, and a brilliant success as a writer.
From this trail of writing, scholars have surmised that many of Andersen's most popular fairy tales are based on parts of his life. In The Snow Queen, the queen character represents the icy hand of death who lead away Andersen's father when he was only eleven. In contrast to the queen, the character of Gerda frees the boy with love, returning him to a world of springtime renewal. Gerda is often compared to Andersen's grandmother.
With his artistic nature and a quiet manner, Anderson was rejected by his fellow grade school students. He was also forced by the headmaster to study math and science. This theme of isolation is reflected in The Ugly Duckling. The duckling, who was nurtured by good intentions into a path of conformity, endures hardships after leaving the nest. Only when the ugly duckling has achieved success do other swans welcome him as one of their own.
Andersen was successful at the University of Copenhagen, where he was admitted in 1828. Here, he befriended the director Jonas Collins, who paid for his education. Ironically, Collins had turned Andersen away years earlier when he had tried his hand as an actor.
At university, Andersen was influenced by the writings of the Danish poet ěrsted. His theory regarding the contrast between spirit vs. nature and miracle vs. reality is a strong theme in many of Andersen's fairy tales. Andersen also produced his first novel at university and tried his hand at playwriting, but was only moderately successful at these endeavors.
Andersen's first book of fairy tales, Tales Told for Children, began to receive critical acclaim while he was writing his autobiography. Two novels, Improvisatore (1835) and O.T. (1836) established Andersen as a successful and respected writer. He socialized with the rich and powerful, including Charles Dickens, Liszt and Schumann. Andersen's fear that he would take his success too seriously is dealt with in The Tinderbox. In this tale, only magic saves the spoiled hero from death.
Andersen loved many women, including Riborg Voigt and the Swedish singer Jenny Lind, but never married. The recurring theme of unobtainable love is present many tales. In the Tin Soldier, a crippled soldier is rescued, only to be discarded for new and shiny toys. The soldier's only solace before being thrown into a fire is that he is united with the paper doll he had always loved. Similarly, The Shepherdess and the Sweep tells of a couple who weren't allowed to marry because of the sweep's poor social stature. Unlike Andersen's life, however, the shepherdess does marry the sweep in the end.
Typically, Andersen's tales are optimistic, but often recount the pain when childish purity clashes with the harshness of the adult world. His work was considered unique because it used idioms and constructions of modern spoken language rather than following the constructs of literary work of the time. Andersen's work is popular among both children and adults.
---