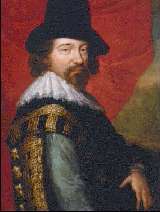 BACON, Sir Francis
Born: January 22, 1561, in London, England
Died: April 9, 1626, in London, England
Sir Francis Bacon was a pioneer of modern inductive science, philosophy, politics, and history. His father was Sir Nicholas Bacon, an Anglican, and the Lord Keeper of the Great Seal under Queen Elizabeth. His mother, the second wife of Sir Bacon, was Anne Bacon, a Calvinist, and Greek and Latin scholar. His oldest brother, Anthony Bacon, was a diplomat.
Sir Francis Bacon was born at his father's estate, York House. A child prodigy, he entered Trinity College, Cambridge in 1573 at the age of twelve. He graduated in 1575. During university, he often disagreed with his teachers and criticized the sole use of the writings of Aristotle to explain all the phenomena of the universe.
He studied law at Gray's Inn in 1575, interrupting his studies briefly to work with the English Ambassador in Paris. He returned to England when his father died in 1579. Unfortunately, his father's will was incomplete and Bacon, left without money, was forced to borrow to finish his legal studies.
Bacon became a barrister in 1582 and a member of Parliament from 1584 to 1614. He aligned himself with the second earl of Essex, Robert Devereux, wanting to be established into the queen's court. Although Devereux helped pay Bacon's debts and kept him from going to debtors' jail, he did not have the influence to establish a position in the court. The fault did not lie solely with Devereux, however. Bacon was often openly critical of the queen's policies. He was only unofficially appointed to the Queen's Learned Council.
In 1597, Essays was published. Well-written and still popular today, this work contains some of Bacon's basic philosophies on the need for observation and science. Bacon's work is noted for contributing to the theory of inductive reasoning (the use of analogy to infer conclusions).
When the earl of Essex attacked London, he was arrested on charges of treason. Bacon, the earl's close friend and advisor, was assigned to prosecute the case. He performed his duties so well, that the earl was executed in 1601.
When James I ascended to the throne of England in 1603, Bacon was knighted at the coronation. This honor was due in part for his recommendations regarding the union of England and Scotland, but was also a result of the efforts of his uncle, Lord Burghley, who was the principal advisor to the queen and the Lord Treasurer.
In 1607, Bacon married Alice Barnham, an alderman's daughter. Over time, he became solicitor general, as well as attorney general in 1613, Privy Councilor in 1616, Lord Keeper of the Great Seal in 1617, Baron Verulam and Lord Chancellor in 1618.
Through his writings, Bacon is recognized for his contribution to the philosophy of empiricism. Concerned with interpretation of nature through human experience, Bacon's work often forces readers to examine his ideas, rather than accept them.
In 1620, he published a philosophical work, Novum Organum, which was the first part of a work, entitled Instauratio, that he would never complete. However, the published portion established Bacon as one of the greatest thinkers in history. He advocated that to obtain knowledge, one must be free from certain preconceptions or idols. For example, he referred to a dependence on language as an "idol of the marketplace" and a dependence on tradition as an "idol of the theater".
In 1621, Bacon became Viscount St. Albans. He was later charged with accepting bribes as Lord Chancellor, fined £40,000 and imprisoned in the Tower. The prison term was commuted, but he had to give up his positions in Parliament and in the court. Therefore, he retired and continued to write and perform scientific experiments. Unfortunately, during his experimentation with meat preservation, he contracted pneumonia and later died.
---