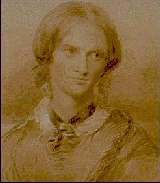 BRONTĖ, Charlotte
Born: April 21, 1816, in Thorton, Yorkshire, England
Died: March 31, 1855, in Haworth, Yorkshire, England
Charlotte Brontė's most noted novel, Jane Eyre, about a young woman struggling with her desires and social responsibilities, brought a new truth to storytelling in the Victorian era.
Her father was an Irish-born, Anglican clergyman who held many curacies before moving with his wife and six children to a position in Haworth in 1820. The rector changed his name to Brunty, a more common form of Brontė. Soon after the move Charlotte's mother and two older sisters died. The remaining children were raised with the help of an aunt, Elizabeth Branswell.
Charlotte attended Clergy Daughters School at Cowan's Bridge, Lancaster. Veiled condemnation of this school with gruel-like food and corporal punishment are contained within Jane Eyre. She returned home in 1825 and spent the next five years on the moor in Haworth. In 1831, she was sent to study at Miss Woller's school at Roe Head. Here she made lasting friendships such as the one with Ellen Nussey. Their correspondence has provided much of the available information about Brontė's life.
In 1835, she returned to the school to teach, bringing Emily with her. The career was short-lived and after three years she retired because of depression and sickness. After taking jobs as a tutor and governess, she and her sister, Emily, moved to Brussels to study with the hope of eventually opening a school close to their family in Haworth. Her time in Brussels provided her with valuable, but solitary personal experience which is evident in her lonely characterization of Lucy Snow in Villette, published in 1852.
After completing studies in Europe, Charlotte returned to England to start a school. However, she failed to attract students because of the remote location of Haworth. If it were not for this failure, however, she may not have been able to devote her time to the art of writing.
When Charlotte discovered that all the sisters had written poetry, they published a volume of verse under the names Currer, Ellis, and Acton Bell. The pseudonyms were an attempt to avoid attention that was considered inappropriate for women during this era. The disguise was unnecessary because the publication sold only two copies.
Brontė's first novel, Jane Eyre, was published along with two other works by her sisters in 1847. The impact of this novel was immediate. Her use of a child to represent a naive sensibility was a unique technique that Dickens later used in his books. She also broke new ground by presenting the picture of love from a woman's perspective. This early feminism startled many Victorian readers who were accustomed to only the male view. The book's resounding success led to the opportunity to publish further pieces.
However, with success came personal tragedy. Her brother died in 1848, followed by her sisters' deaths shortly after. Charlotte stayed on in Haworth and continued to write. Later in life, she was accepted into the community of writers in England, including Thackeray and Martineau.
Charlotte was the only one of the Brontė sisters to marry. She turned down three suitors before marrying Arthur Bell Nicholls in 1854. Her pregnancy and accompanying sickness cut short their life together. She died in 1855.
---