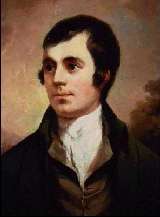 BURNS, Robert
Born: January 25, 1759, in Alloway, Ayreshire, Scotland
Died: July 21, 1796, in Dumfriesshire, Scotland
Robert Burns lived only to the age of thirty-seven, but he is honored every year on January 25 as the Scottish National Poet. Although he was, himself, considered a coarse, unpolished farmer, his tales of Scottish stories and song are sophisticated literary achievements.
His father was William Burness, a tenant farmer working unproductive land. Burns was the oldest of seven children. Undernourished and overworked as a child, he was plagued by poor health all his life. Lack of money meant that Burns was not formally educated, but he was briefly tutored with other farm children by John Murdoch, a scholar hired by the farmers. However, Burns was primarily a self- study student, reading Pope, Milton and Shakespeare and learning French.
Burns' mother, Agnes Broun, initiated his interest in Scottish folk tales and songs. Burns was heavily influenced by Edinburgh poet Robert Fergusson, who gave Burns insight into the power of Scottish dialect and tradition.
By 1785, he was writing verse and over the next two years, he produced such works as To a Daisy and Hallowe'en. He started to use his poetry as an expression of love and joy, or as satirical commentary. For example, he used his poems to criticize the Calvinist theology. He frequently opposed the views of the Calvinist church, which he thought perpetuated poverty and inhumane conditions.
Burns was notorious for his love affairs and resulting illegitimate children. In 1785, his first illegitimate child was born to a servant named Elizabeth Paton. His affairs with Jean Armour resulted in two sets of illegitimate twins. Although Burns wanted to marry Armour, her father refused to allow it. Burns' next affair was with Mary Campbell. Once this relationship also failed, Burns planned to leave for the West Indies to improve his fortune.
On the eve of his departure in 1786, Poems, Chiefly in the Scottish Dialect was published. With the success of this work, he canceled his plans to leave for the West Indies. However, his readers mistook him for a coarse farmer. He felt patronized by his literary peers and became disillusioned with his success. The positive outcome of his literary success came in the settling of differences with Jean Armour's family. In 1788, he settled into a farm at Ellisland, Dumfriesshire, with his wife, Jean.
Burns collaborated with two collectors of Scottish songs, James Johnson and George Thomson. Most of his songs appear in Scots Musical Museum and Thomson's Select Collection of Original Scottish Airs for the Voice. It has been assumed that Burns added words to traditional tunes such as Auld Lang Syne. He saw the work as service to Scotland and refused any money for the work. He was later given an appointment with the excise service and moved to Dumfries in 1789. He nearly lost his government post for supporting the French Revolution, but he retracted his statements and joined the volunteer regiment.
---