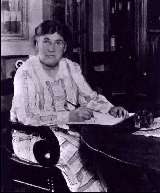 CATHER, Willa Silbert
Born: December 7, 1873, in Gore, Black Creek Valley, near Winchester, Virginia, United States
Died: April 24, 1947, in New York City, New York, United States
Willa Cather, today recognized as one of America's foremost novelists, received no formal schooling as a child. However, when she was about age ten, her family moved from Virginia to a farm near Red Cloud, Nebraska, and the experiences that followed proved to be as integral to her "education" as the more formal schooling which came later in her life.
After her family moved to the town of Red Cloud, she attended high school there and was tutored by a store clerk in Greek and Latin. She graduated from the University of Nebraska in 1895 and began working as a journalist for the Pittsburgh Daily Leader. She found journalism left little time for the interest in writing she had developed during her university years, however, and left to become a teacher. In 1903 her first book (a collection of verse) April Twilights was published. She subsequently worked as an editor on McClure's Magazine in New York City from 1906 until 1913, at which point she resigned in order to write full time.
At this time, with the encouragement of Sarah Orne Jewett, she began writing about the West. In much of her writing the contrast between the values and way of life of rural farm families, and that of town and city people, is explored. Her work is clearly informed by her previous exposure to prairie life and various neighbors from across eastern Europe. Her first novels O Pioneers! and My Antonia were considered critically successful, and she continued to examine the declining prairie frontier in subsequent work, including One Of Ours which won a Pulitzer Prize in 1923.
In her characteristically clear yet carefully crafted writing style Cather also explored other frontiers, writing about the Southwest, Quebec, and Virginia. Death Comes for the Archbishop, for example, takes up a Roman Catholic bishop in New Mexico, and his experiences with the native Indians there. Over the years Cather received honorary degrees from several major universities across the United States, including Yale and Princeton. Her last novel, Sapphira and the Slave Girl, was published in 1940, seven years before Cather died of a hemorrhage and was buried at Jaffrey, New Hampshire.
---