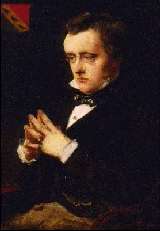 COLLINS, (William) Wilkie
Born: January 8, 1824, in London, England
Died: September 23, 1889, in London, England
Collins was an English writer accredited with creating the first detective fiction. His father was William Collins, a significant British landscape painter and pious man. Young Collins was educated in private schools and toured in Italy with his family from 1836-1838. Although he was called to the bar he never practiced, and neither did he succeed at business. His first literary work, a romantic history entitled Antonia or the Fall of Rome and inspired by Bulwer-Lytton, was not very successful either.
In 1851 however he began writing for, assisting, and traveling with Charles Dickens, who published some of Collins' work in his journal Household Words. They also collaborated on the work No Thoroughfare, published in 1867. Dickens enjoyed employing the techniques of clues and false clues that Collins inspired, and in turn Collins developed a good sense for character development in his own work.
Collins' best known texts, The Woman in White and The Moonstone, first appeared in periodicals edited by Dickens, and are considered masterpieces in their respective fields of mystery thriller and detective fiction. In fact the striking characterization of Sergeant Cuff in the latter text (published in 1868) is the first English depiction of a detective at work. The theme in The Woman in White (1860) of society's cruelty toward unwed mothers was most likely a reflection of his experiences with two women, Caroline Graves and later Martha Rudd, with whom he had children, but never married. In other writings Collins similarly broke typical Victorian restrictions and addressed such topics as prostitution. Although he published fifteen more novels, none regained the brilliance of his earlier work.
Collins died in 1889 after suffering from gout and an addiction to painkillers (such as opium) in his later years.
---