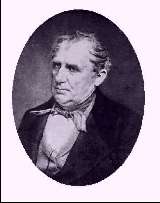 COOPER, James Fenimore
Born: September 15, 1789, in Burlington, New Jersey, United States
Died: September 14, 1851, in Cooperstown, New York, United States
James Fenimore Cooper is often regarded as the first great writer of American fiction. He wrote stories of international travel and criticisms of the American social systems, but is best known for his action-filled adventure stories of life on the American frontier.
Cooper was the second to last child in a family of twelve children. He grew up in a town founded by his father in central New York state, Cooperstown. His father was Judge William Cooper who had served in the administrations of both George Washington and John Adams. His mother, Elizabeth Fenimore, was from a Quaker family.
His early education took place in a private school in Albany. He then spent three years at Yale University where he distinguished himself as a Latin scholar; however, he was expelled from the schools as the result of a prank in his junior year.
After leaving university, Cooper joined the merchant marines and then went on to become a midshipman in the United States navy. In 1809, Cooper's father died, leaving him enough money that he was able to live his life with financial independence. He left the navy in 1811 to marry Susan Augusta DeLancey, a descendant of one of the early governors of the American colony.
Cooper managed his wife's estates in Winchester County New York for several years and didn't begin writing until the age of thirty. Initially, he attempted writing to provide himself with a challenge since his financial security was ensured by his inheritance and the revenue from the estates.
His first book, Precaution, was written in the style of Jane Austen and, while not a success, it is interesting for its historical content. Despite this setback, he began writing stories based on his own experiences as a woodsman and a sailor. His second book in 1821, The Spy, was based on the style and structure of Sir Walter Scott's adventure novels. But The Spy was more than just an imitation. It introduced new themes of conflicting loyalties within the setting of the American Civil War. The book was instrumental in launching his career in both North America and Europe.
Cooper's family responsibilities had been growing steadily over the years as he had taken in the widows and children of his older brothers. While he was not in financial difficulty, the revenue generated by his writing was a welcome supplement to the earnings from the estates.
The success of The Spy gave Cooper the confidence to establish his own style of writing and abandon imitation of established writers. Through his writing, he attempted to establish a form of literature that was unique to the American culture of the time.
In 1823, Cooper published Pioneers, the first in a series of five books called the Leatherstocking Tales. Much of the material for this book was derived from his experiences growing up in Cooperstown. The story details adventures in a frontier town and introduces Natty Bumppo, a character who reappears throughout the series.
For four years, starting in 1822, Cooper lived in New York where he became increasingly active in the literary community. He was a founding member of the Bread and Cheese Club which was an association of active American writers. One of the more notable members was poet and journalist, William Cullen Bryant who is best known for his poem Thanatopsis.
In 1826, Cooper was awarded the position of U.S. Consul at Lyons, France. While there, he produced a three-part series that detailed the feudalism of medieval Europe.
After almost seven years in Europe, he returned to America and published Gleanings in Europe, a series of writings about his travels and experiences in Europe published in 1838. He was becoming more active politically at this time and published articles criticizing the social and political structure of America. His essay, The American Democrat, raised considerable controversy and he was also involved in considerable mudslinging which eventually ended in lawsuits of libel and slander.
Despite his activism in the political arena, Cooper completed The Deerslayer in 1840 and The Pathfinder in 1841. The completion of these two books ended the series of the Leatherstocking Tales. While many writers, including Joseph Conrad and Herman Melville, admired Cooper's work, Mark Twain was vocal in his criticism of Leatherstocking Tales. He claimed Cooper's characterizations and dialogue were inept and his knowledge of wilderness survival questionable.
Cooper spent his final years in Cooperstown where he continued to publish works of fiction and nonfiction including some naval history and The Littlepage Manuscripts which detailed the lives of several generations of a New York family. Cooper died on September 14, 1851, one day before his sixty-second birthday.
---