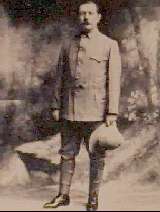 DOYLE, Sir Arthur Conan
Born: May 22, 1859, in Edinburgh, Scotland
Died: July 7, 1930, in Crowborough, Sussex, England
Arthur Conan Doyle was the creator of the popular super sleuth, Sherlock Holmes and his tales of sleuthing launched a whole new genre of writing, that of the detective story. His writing drew heavily from the style of Edgar Allan Poe.
Doyle was born to Irish Catholic parents in 1859 and was educated by Jesuits in both Austria and England. He went on to attend Stonyhurst College and the University of Edinburgh where, in 1881, he received his degree in medicine.
After graduation, he gained employment as ship's surgeon on a whaling ship destined for the Arctic. When he returned, he settled in Southsea, England where he practiced medicine from 1882 to 1890.
In 1887, Doyle's now famous sleuth, Sherlock Holmes, was introduced in a lackluster story titled A Study in Scarlet. Doyle had fashioned the private investigator on a professor he'd had during his days at University, Dr. Joseph Bell. Bell, however, consistently denied being inspiration for the character.
Despite the first story's poor showing, Doyle was convinced to continue the series. He wrote the novelette, The Sign of Four, and completed 24 short stories under the titles The Adventures of Sherlock Holmes and The Memoirs of Sherlock Holmes. Each of the short stories was published in The Strand Magazine. Despite the tepid response to his first story, the subsequent tales of Sherlock Holmes gained popularity very quickly. They became so popular, in fact, that Doyle gave up his medical practice to devote all his efforts to writing.
After about five years of writing the Sherlock Holmes stories, Doyle began to tire of the work. As a solution, he published The Final Problem which described the death of Sherlock Holmes. The Strand Magazine's readers were outraged but could do nothing. It was not until ten years later that Doyle, in a reconciliatory gesture, proclaimed that the word of Holmes's demise was greatly exaggerated and he produced another series of short stories for The Strand Magazine. In total the Sherlock Holmes series included fifty-six short stories and four novelettes.
After his final stories of Sherlock Holmes, Doyle returned to medicine. He served as a physician in the Boer War and when he returned to England, wrote three books. Together they detailed his experiences in the war and justified England's involvement. For his public support of England, he was knighted in 1902.
Doyle continued to write but after his son was killed in battle during World War I, his writings turned to more existentialist topics. He turned from Catholicism to spiritualism in an attempt to heal the pain he felt at the loss of his son.
While Doyle is primarily known for the creation of the famous sleuth and his sidekick Dr. Watson, Doyle also wrote a historical romance titled Micah Clarke in 1896. His final work was an autobiography, published in 1924, titled Memories and Adventures.
---