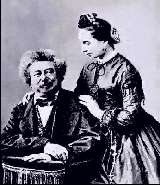 DUMAS, Alexandre père
Born: July 24, 1802, in Villers-Cotterets, Aisne, France
Died: December 5, 1870, in Puys, near Dieppe, France
Alexandre père Dumas was the son of General Thomas- Alexandre Davy de La Pailleterie and grandson of the Marquis de la Pailleterie. The General later changed his surname to that of his mother, Marie Cessette Dumas.
Dumas' grandfather had settled in Santo Domingo and married a native, Marie Cessette Dumas. Dumas' father returned to France at the beginning of the French Revolution and rose to the rank of General under Napoleon before he offended the emperor and ended his military career. He died when Dumas was only four.
Dumas had little formal education but was an avid reader. He was particularly fond of sixteenth and seventeenth century adventure stories which are reflected in some of his own writings.
Despite his lack of formal education, Dumas went to work in the office of a solicitor. He eventually moved to Paris with the hopes of becoming a lawyer and found work in the household of Duc d'Orleans. While in Paris, he had a relationship with Marie Catherine Labay, a dressmaker, and together they had a son. His son, also named Alexandre Dumas, went on to follow in his father's footsteps as a writer and playwright.
Two of his first major works, Henri III in 1829 and Christine in 1830, were popular and successful, and with their the success came the friendships with Victor Hugo and Alfred Victor, Comte de Vigny. Shortly after these successes, Dumas married actress Ida Ferrir.
During the 1940s, Dumas capitalized on the recognition of his name and began working with many collaborators. The collaborations allowed him to increase the amount of work he could produce while still maintaining his distinctive style. It is unclear how much of the writing was performed by his assistants and collaborators but more than 300 volumes of work are attributed to his name.
Perhaps the most famous work by Dumas is The Three Musketeers, published in 1844. The initial novel was so popular that he continued the story into four sequels. What set his stories apart from much of the work at the time was the depth he gave his characters and the acute historical ties that are woven into the text.
The Count of Monte-Cristo was released about a year after The Three Musketeers and it established new standards for plot development, intrigue, and suspense. While The Count of Monte -Cristo is considered a work of fiction, it was based on the true story of a man who was wrongfully imprisoned on his wedding night by jealous friends. The tables were turned when the imprisoned man inherits great wealth, is released from prison and returns to punish those who imprisoned him.
Despite the success and number of the works Dumas produced, the revenue that his books generated was insufficient to sustain the lifestyle he chose. A lush estate, several mistresses and many works of art were just some of the extravagances that consumed his wealth. He died, nearly broke, in the house of his son.
---