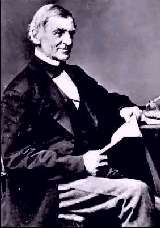 EMERSON, Ralph Waldo
Born: May 25, 1803, in Boston, Massachusetts, United States
Died: April 27, 1882, in Concord, Massachusetts, United States
Ralph Waldo Emerson was an American poet, lecturer, and essayist, noted for his social reforms and the founding of the Transcendalist movement. Many of Emerson's ancestors were devoted religious leaders. His own father, William Emerson, was the minister of the First Unitarian Church of Boston. His mother, Ruth Hastings, was a strong Anglican.
After his father's death in 1811, he was educated by his aunt Mary Moody. Emerson was encouraged to write at Boston Public Latin school and later attended Harvard. After graduating, Emerson became a teacher for three years while continuing his studies in theology.
Problems with his health caused Emerson to live in the warmer climates of Georgia and Florida where he delivered sermons occasionally. In 1829, he became minister of the Second Unitarian Church of Boston. He married Ellen Tucker, who, sadly, died seventeen months later.
His wife's death caused Emerson to question his faith. He resigned from his ministerial position, claiming that he could no longer consider the Lord's supper as a sacrament. After his resignation, Emerson traveled to England, where he met influential figures such as Samuel Taylor Coleridge, William Wordsworth, and Thomas Carlyle.
On his return to the States in 1833, he lectured in Boston on subjects such as the nature and philosophy of society, history and culture. In 1835 he married Lydia Jackson and moved to Concord, Massachusetts. There, he formed friends among Transcendentalists such as Nathaniel Hawthorne, Bronson Alcott, Henry David Thoreau and Margaret Fuller. Published in 1836, his book Nature describes his philosophy of transcendentalism.
At Phi Betta Kappa he delivered two controversial lectures in which he warned Harvard scholars not to worship books and attacked formal religion. His opinion that intuitive spiritual experience was important was taken on by younger scholars. He used The Dial, a journal of New England transcendentalism, to voice his opinions and rally the new generation.
In 1847, he returned to lecture in England. His series of lectures were reprinted in The Representative Man. Not afraid to speak his views, he became a spokesman against slavery. Despite his controversial views, he was popular wherever he went. His speeches were written to the common people, often using metaphor to convey concepts.
---