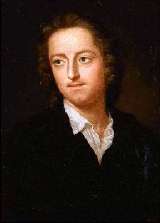 GRAY, Thomas
Born: December 26, 1716, in Cornhill, London, England
Died: July 30, 1771, in Cambridge, Cambridgeshire, England
Thomas Gray was a forerunner of the romantic movement. He is considered one of the Graveyard poets because his best known work is set in the cemetery. He is not one of the major poets because of his limited output, but the quality of his works make him a distinguished minor poet.
His father, Philip Gray, was a money broker who was described by his wife in their separation papers as a scoundrel and a brute. His mother, Dorothy Antrobus Gray, owned a millinery with her sister. Dorothy and her brothers were responsible for Thomas' education and support. His uncles tutored and cared for him throughout his education, which took place at Eton and the University of Cambridge.
Gray was a studious boy, avoiding the antics of other boys. At Eton College, he became associated with the "Quadruple Alliance", which also included Horace Walpole, son of the prime minister, Richard West, son of the Lord Chancellor of Ireland, and Thomas Ashton.
After his studies of Greek, Latin and law, he traveled to Europe with his Eton classmate Horace Walpole. On his return to London, he published his first book of verse. In 1741, his father died and he and his mother moved to Stoke Poges, the site of the graveyard in the poem, Elegy Written in a Country Churchyard.
This poem was published in 1751 only at the insistence of his friend, Walpole. Gray wasn't motivated by fame. Most of his works were never published. He turned down an offer to become poet laureate at the university, although he accepted a position as chair of history and modern languages in 1764
He completed a law degree, but never practiced law. Although he didn't like Cambridge, he lived there most of his life because it provided access to the libraries. Only one poem became truly successful, but he is one of the most quoted poets. He was buried in the cemetery he made famous in Stoke Poges.
---