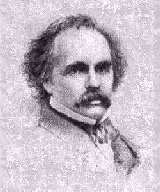 HAWTHORNE, Nathaniel
Born: July 4, 1804, in Salem, Massachusetts, United States
Died: May 19, 1864, in Plymouth, New Hampshire, United States
Nathaniel Hawthorne was an American novelist who is best known for The Scarlett Letter. As a boy, Nathaniel loved reading and always wanted to become a writer. Although he associated with leaders of the Transcendentalist movement, such as Ralph Waldo Emerson and Bronson Alcott, Hawthorne's work seems relatively untouched by this philosophy and remained Puritan in nature.
Hawthorne attributed his bad luck to his ancestry and his work is filled with themes of the consequences of man's actions and original sin. Hawthorne's father was a ship captain who died when his son was only four years old. The first Hawthorne to immigrate to Massachusetts from England was William, who became a magistrate and ordered the whipping of a Quakeress in Salem. William's son, John, taking after the tradition of his father, was a judge for the Salem witch trials of 1692.
After graduating from Bowdoin College in Brunsick, Maine, in 1825, Hawthorne moved back to Salem and lived with his mother. He apprenticed until 1837 while at the same time, trying to write successful fiction. He destroyed most of his work from this time, publishing only the unsuccessful Fanshawe in 1828.
In 1837, some of his tales were printed anonymously in the press and he published a collection of tales, called Twice-Told Tales. This was the first work on which he identified himself as the author.
In 1939, Hawthorne started working at The Boston Custom House. However, wanting to support himself with his writing, rather than manual labor, he became a shareholder with the agricultural cooperative Brook Farm in West Roxbury, Massachusetts. By 1842, writing had provided Hawthorne with enough money to support himself and marry Sophia Peabody.
The Hawthornes moved to the Old Manse in Concord, Massachusetts. Hawthorne described this as the happiest time of his life. He was able to write for three years, producing his American Notebooks and the essay The Old Manse. Family debts, however, forced Hawthorne to move back to Salem in 1845 and work as a surveyor of the Custom House, a post awarded to him by the Democratic Administration of James K. Polk. Hawthorne continued writing, however, and published Mosses from an Old Manse, a second collection of tales in 1846. In 1849, Hawthorne was discharged under the Whig administration.
After losing his job, Hawthorne wrote The Scarlett Letter. His discharge from Custom House and the controversy that surrounded his novel boosted sales of the book. The success of the book renewed Hawthorne's dream of supporting himself financially by writing. While living in western Massachusetts for the next year and a half, Hawthorne wrote The House of Seven Gables, a work which caused his publisher to recognize Hawthorne's talent.
About this time, Hawthorne became friends with Herman Melville, who published Moby Dick in 1851 with a dedication to Hawthorne. Hawthorne then moved back to eastern Massachusetts, preferring to work by the seaside. Here, he wrote The Blithedale Romance, which recounts his time as a resident of Brook Farm. The Hawthornes then moved back to Concord, purchasing and remodeling the childhood homestead of Louisa May Alcott. The poorly received The Blithedale Romance didn't provide very much income.
In 1853, Hawthorne's college friend, Franklin Pierce, was elected president. Pierce offered Hawthorne the U.S. Consulship in Liverpool. During his term, Hawthorne wrote factual accounts of his travels in this position.
After his term ended in 1857, Hawthorne moved to a seaside village in England to write The Marble Farm, a book about his Italian experience. While Hawthorne's health failed during the last four years of his life, he felt frustrated with his writing. He did write a well-received collection of essays, entitled Our Old Home, but his passion for writing had diminished.
---