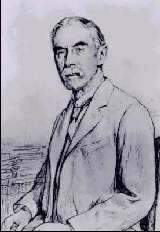 HOUSMAN, Alfred Edward
Born: March 26, 1859, in Fockbury in Worcestershire County, England
Died: April 30 or May 1, 1936, in Cambridge, England
Alfred Edward Housman was an English scholar, critic, essayist and poet. He grew up in the village of Bromsgrove in Worcestershire. He was the oldest child of seven born to Edward, a solicitor, and Sara Jane Williams Housman. His brother, Laurence, became a noted dramatist. Although often described as shy and retiring, he founded a satirical journal, Ye rounde Table, and published parody under the name Tristram.
After showing an aptitude for classics at an early age, Housman entered St. John's College, Oxford. At first, he impressed his teachers with his academic ability, scoring first in the intermediate exam in 1879. However, two years later, he failed his final exam. Housman spent the next ten years working in a post office, although he continued to publish scholarly works. His works culminated in a position with the university in London.
During his college period, he made acquaintances that would influence both his writings and his personal life. He befriended Andrew Gow and Alfred Pollard who both became successful scholars. Most important, however, was his failed relationship with a young scientist and athlete Moses Jackson that shaped much of his work.
Housman described M. J. Jackson as the man who had more influence on his life than anyone else. After Jackson married in 1889, Housman felt rejected and was never content with their platonic relationship. Following this experience Housman wrote his poem about the trial and incarceration of Oscar Wilde. Wilde, the author and symbolic representative of the aesthetic movement of the 1890s, was imprisoned for his homosexuality. Housman's poem is a poignant recount of a man imprisoned for the color of his hair.
Housman defined poetry as the "transfusing of emotion not the transmitting of thought." During his lifetime he published only two volumes of poetry. Therefore while critics consider his works influential, the limited number and scope of his work prevents him from being called a major poet. His lifetime of work exhibits a lack of thematic and stylistic development, dealing primarily with the loss of love, fortune, and life. His greatest work, The Shropshire Lad, was a popular success rather than a critical success. Having visited Shropshire as a child, the location symbolized pastoral mystery and enchantment for Housman.
Housman's goal was to be a great scholar first, then a writer of poetry. During his tenure at the University College London from 1882 to 1911, and Trinity College at Cambridge University from 1911 to 1936, he distinguished himself as an exceptional pedagogue in Latin. For Housman, his greatest achievement was the translation and editing of the five volume work, Astronomica, by Manilius, a first century Latin poet.
After his death, Laurence Housman edited and released more of his brother's work, but much of the early works were withheld because of their personal nature.
---