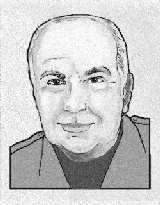 HUBBARD, Elbert Green
Born: June 19, 1856, in Bloomington, Illinois, United States
Died: May 7, 1915, in East Aurora, New York, United States
Elbert Green Hubbard was an American author, businessman, printer and lecturer. He was the son of Dr. Silas and Francis Read Hubbard.
After graduating from Tufts College with a M.A. honors in 1899, he became salesman of soap. He was extremely successful, but was more interested in writing ideas and living a carefree life. While traveling Europe, he was influenced by the works of English craftsman William Morris and his Kelmscott Press. About this time, he married Alice Moore.
On his return from Europe, he formed Hubbard's Roycroft Press in East Aurora, New York. He enthusiastically started producing editions of classic books of literature, and household items (for example, furniture).
He was influenced by the writings of Emerson and Thoreau. Based on their model, he wrote a series several short stories, which include: Little Journeys to the Homes of Great Men; Little Journeys to the Homes of Famous Women; Little Journeys to the Homes of Eminent Painters, and so on. He was also an active journalist for the Philistine and The Fra. The latter publication was named using his own nickname, Fra Elbertus.
His best known work, A Message to Garcia, was published in 1899. The essay, which recounts an event of the Spanish Civil War, became required reading for both Japanese and Russian troops during the Russio-Japanese war. In 1940, its circulation was estimated at 40 million copies.
With this success, he created series of vaudeville lectures that combined moral lessons with comic prose. Aurora became a commune-like center for his followers, whom he employed in the production of crafts, furniture and books. He died when the Germans sunk the oceanliner, the Lusitania.
---