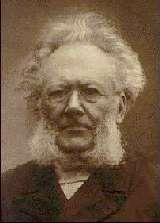 IBSEN, Henrik
Born: March 20, 1828, in Skien, Norway
Died: May 23, 1906, in Christiania (now Oslo), Norway
Henrik Ibsen was a Norwegian writer whose work is primarily dramatic. He is recognized as the father of modern drama for his realistic portrayal of psychological and social problems. Although most of his works were controversial during his time, the effects of his influence on writers such as Shaw are immeasurable.
He was the second child of a well-to-do businessman, however, his father declared bankruptcy during the Depression. The family's move to Venst°p combined with their humiliating financial disgrace caused Ibsen to escape with daydreams and imagination.
At the age of sixteen, he became an apothecary's apprentice in Grimstad. Lonely and isolated, he had a relationship with a servant girl, and their child caused him financial hardship for fourteen years.
With a will to better his life, he again used his imagination and began to write. In 1850, his first drama, Katilina, was published. He worked at odd jobs in Oslo to obtain the money to attend the university. During this time, he met and married Susanna Thoresen.
Most of his life was spent in Rome, Dresden, and Munich. Occasionally he visited Norway. He was appointed to theater directorships, but the stress of the position provided little time to write. Therefore, he counted on grants and fellowships to support himself and allow time to write.
Early in his career, he wrote Brand and Peer Gynt, which became successes. His style turned more and more toward realism through the progression of dramas such as The Young Men's Union in 1867, The Pillars of Society in 1877, and Emperor and Galilean in 1871. The culmination of his style came with A Doll's House in 1879 and Ghosts in 1881.
With these last two plays came much public outcry. Not to be deterred, Ibsen created three plays between 1882 and 1886: An Enemy of the People, The Wild Duck, and Rosmersholm. Prior to these works, Ibsen's plays were full of moral explorations. However, his later works included increasingly more use of elements of vision, compassion and symbolism. One of his best plays, Hedda Gabler, was written just before he returned to Norway in 1891.
---