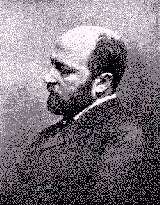 JAMES, Henry
Born: April 15, 1843, in Greenwich Village, New York, United States
Died: February 28, 1916, in London, England
Henry James was an extraordinarily prolific writer who produced more than four million words of fiction, an equivalent amount of non-fiction and more than fifteen thousand letters. His writing is challenging to read with its intricate form and complicated language but those who have mastered the complexity consider his work to be thought- provoking and enjoyable.
He was born to Henry James Sr., a philosopher and theologian, and Mary Walsh James. Both parents were descendants of wealthy Irish Protestant families in America which allowed them a great degree of financial freedom. James was the second in a family of four children which included William James, a philosopher, scientist and psychologist.
James began his formal education at the Richard Pulling Jenks School in New York but his family's love for travel meant that his education took place across much of Europe. He attended school in Geneva, London, Paris, and Bonn, as well as several other cities. Travel was an early and continual influence on James' life and it wasn't until the age of 53 that he established a place of residence for more than a few years. Many of his works contain an echo of homesickness and a curiosity regarding the concept of what constitutes a home.
In 1860, the James family returned to America and shortly after, James entered Harvard University to study science and Law. He avoided the American Civil War due to a personal injury would continue to bother him throughout his life.
James maintained an active social life and was friends with other notable writers such as Oliver Wendell Holmes and Thomas Sergeant Perry. He was always writing and was a regular contributor to the Nation and Atlantic Monthly publications for several years. He returned to Europe in 1869 but was summoned back to America when his cousin died.
James' first long work of fiction, Watch and Ward, was published in the Atlantic Monthly in serial form in 1871. Again, he decided leave America and he traveled first to Paris and then to England. While there, he became acquainted with many of the prominent writers of the time including; Alfred Lord Tennyson, Robert Browning and George Eliot. His writing appeared in the New York Tribune under the title of a foreign correspondent.
In 1879, James published Daisy Miller which brought him some popularity in England as well as America. Three years later, James returned to America to comfort his father after the death of his mother. After a short stay, he traveled back to England. His stay in England was similarly short- lived when, later that same year, he again traveled back to America for the funeral of his father.
The atmosphere of England appealed to James and in 1896, he bought a home in Rye, Sussex, England where he would live for the rest of his life. Two years later, he completed Turn of the Screw, an ingenious and chilling ghost story.
The contribution James made to the literary community was tremendous if only for the volume of work that he created. He was given honorary doctorates from Harvard University in 1911 and Oxford University in 1912. He became a naturalized British citizen in 1915 but suffered a stroke that same year.
Much of James' writing is characterized by an anti- romantic and individualistic attitude. Throughout his life he had always placed a higher value on freedom than on love and as such was never married. Many of his works conclude leaving the reader with a sensation of loss and often present more questions than answers. In 1916, James suffered a heart attack and died. His ashes were returned to America where they were buried in the family plot in Cambridge, Massachusetts.
---