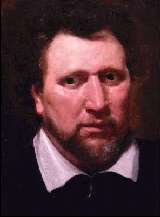 JONSON, Ben
Born: June 11, circa 1572, probably in Westminster, London, England
Died: August 6, 1637, in Westminster, London, England
There is some uncertainty about the early life of Ben Jonson, but it is generally accepted that his father was a preacher who died before his son's birth. After her first husband's death, his mother married a bricklayer who subsequently adopted Jonson.
Jonson's formal education began in Westminster school but did not continue long. He left school early and apprenticed for a short while in his stepfather's trade before pursuing other interests.
In 1592, Jonson joined the English military at Flanders for a short time before moving to London where he found work as an actor and apprentice playwright. His early writing tasks for Philip Henslowe's theater company included revising plays that were already being performed. It would be another six years before his own original play would be performed.
On November 14, 1594, Jonson married Anne Lewis. They had two children, a boy and a girl, but neither survived childhood.
Jonson's first original play was performed in 1598. Every Man in his Humour caught the attention of the theater-going audience and established Jonson's reputation as a playwright. The work pioneered a new style of comedy that revolved around a cast of eccentric characters each of which held a distinct personality and temperament. Unfortunately, the success of the first work was not repeated with his second play even though it followed the same comedic style.
The mainstream theaters didn't offer Jonson enough creative freedom and he began writing for more experimental theaters. Over the next few years, he penned several more experimental comedies including Cynthia's Revels in 1600 and Poetaster in 1601. In 1603, Jonson's work caught the attention of James I's queen when she saw Entertainment at Althorpe. The royal attention lead to his commissioning to write masques for the entertainment of King James I. The masques written during this time, including The Satyr in 1603, Masque of Beauty in 1608 and Masque of Queens in 1609 contain some of Jonson's best lyric poetry.
While writing masques for the king, Jonson also continued to produce work for the public theaters and produced two historical tragedies, Sejanus in 1603 and Catiline in 1611. He also produced his four most notable comedies: Volpone in 1606, Epicene in 1609, The Alchemist in 1610 and Bartholemew Fair in 1614.
After leaving his position writing masques for the king's court, Jonson began to travel through Scotland. His most prolific period of writing was behind him and the quality of work dropped but his recognition and popularity continued. He was made an honorary burgess and guild brother in Edinburgh and received an honorary master of arts degree from Oxford University.
Jonson's writing had a significant impact on English literature. He advocated adherence to the classical styles of literature that were established by the likes of Aristotle. He consciously avoided the mixing of comedy with drama and maintained a style of work that was apart from the improvisational nature of his contemporary, William Shakespeare. He died in 1637 and was buried in Westminster Abbey.
---