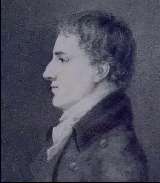 LAMB, Charles
Born: February 10, 1775, in London, England
Died: December 27, 1834, in London, England
Charles Lamb was the son of John Lamb, a clerk to a London lawyer, and Elizabeth Lamb, a frail invalid who required frequent attention and care. Lamb's sister, Mary, was given the responsibility for caring for their mother.
Lamb's early education took place at Christ's Hospital School where one of his classmates was Samuel Taylor Coleridge. They developed a friendship that lasted throughout their lives. While at school, Lamb was heavily influenced by the writings of James Boyer and hoped to pursue a career as a minister or educator. His hopes were crushed when he realized his speech impediment put both careers out of his reach.
After graduation, he began work as an accounting clerk in London where he remained employed for much of his life. He shared a house with his sister and began writing while still working. Despite his speech impediment, Lamb's wit and charm endeared him to many members of the local writing community. He and his sister regularly hosted Wednesday night gatherings that were attended by the likes of Coleridge and Wordsworth.
In 1796, in a fit of temporary insanity, Lamb's sister killed her mother. Despite his meager earnings, Lamb was able to place his sister in a private mental institution where her care gave her some chance of recovery. When she was released, Lamb cared for her at their home.
Lamb suffered his own mental distress when, after a failed love affair, he had a breakdown. For his recuperation, he spent time in a mental institution in Hoxton.
One of Lamb's earlier works was released a couple years after his breakdown and internment at Hoxton. The Tale of Rosamund Gray and Old Blind Margaret is the tragic story of a woman whose life is so terrible that her eventual death rescues her from her miserable existence.
In 1806, Lamb and his sister began working on stories and verse for children, despite the fact that neither had much experience with adolescents. Their first work, Tales from Shakespeare, was a collection of classics, simplified for the younger audience. A second book, Mrs. Leicester's School, was released a couple of years later and the two books sold well. They continued to write children's books for a short time with moderate success.
In 1820, Lamb published a series of humorous and sentimental essays in London Magazine under the pseudonym Elia. They were later published as bound collections in 1823, Essays of Elia, and 1833, Last Essays of Elia. The latter was published only a year before Lamb's death. The essays served to established Lamb's reputation within the London literary community.
Lamb never married but in 1823 he and his sister adopted a fifteen year-old orphan, named Emma Isola. In 1834, Lamb incurred some serious injuries as the result of a fall. Doctors were unable to control the infection that set in and he died on December 27, 1834.
---