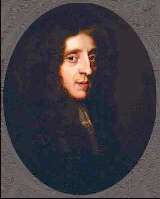 LOCKE, John
Born: August 29, 1632, in Wrington Somerset, England
Died: October 28, 1704, in Oates, Essex, England
John Locke was an English philosopher whose work became the foundation for modern science. His works addressed the topics of Christianity, economics and politics and were inspirational in the creation of the United States constitution.
Locke was the son of John Locke, an attorney in Pensford, Somerset, England. Locke's father recognized the importance of a good education and he sent his son first to Westminster school and then on to Christ Church College, Oxford. Locke was a bright student but found that the structure of training in schools was deficient in developing problem solving skills in the students.
In 1659, Lock was still a student at Christ Church College but he was also tutoring in Greek and philosophy. His interests had expanded to include the field of medicine and he showed a particular interest in the lectures of Sir Robert Boyle. He would have likely continued as a student indefinitely if it were not for limited financial resources and the university's limitation on how many years a student could attend without attaining a degree.
Locke established an amateur medical practice in 1666. One of his patients was Lord Ashley, first earl of Shaftesbury. Their association made it possible for Locke to continue his studies at Oxford. Their friendship was strengthened further when, in 1668, Locke performed an operation that saved the earl's life.
Lord Ashley had opposed the succession of the Roman Catholic duke of York to the throne. For this he was branded a traitor and accused of treason. By association, Locke was also condemned and he was forced to flee England for Holland. Even outside of England, he was forced to hide from British agents who intended to capture and return him to England for trial. While in exile, Locke outlined the underlying principles of civil liberty. These principles were the basis of some of his later work.
After a revolution in England, William of Orange was crowned king and Locke was able to return to England. He was offered a diplomatic post by the king but refused it in favor of spending the time preparing some of his works for publication. In 1690, Locke completed Two Treatises on Government which expressed the superiority of strict democracy over the monarchist structure. He also published Essay Concerning Human Understanding in the same year.
Locke's philosophical views were in direct opposition to those of Hobbes. Much of the discrepancy can be attributed to the differences in the eras which they lived. Hobbes lived through a tumultuous and violent time in England's history while Locke's time, in contrast, was marked by a bloodless revolution.
For four years, starting in 1696, Locke served as a trade commissioner for England but he was forced to resign his post due to failing health. He retired to his home in Oates where he died in 1704.
---