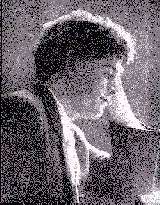 LONDON, Jack
Born: January 12, 1876, in San Francisco, California, United States
Died: November 22, 1916, in Santa Rosa, California, United States
Jack London, was born John Griffith Chaney in San Francisco to impoverished parents. He attended public school until grade eight when financial necessity forced him into the work force. He worked as a seamen and a prospector and continued his education through the reading of borrowed books. He was greatly influenced by the writings of Kipling, Nietzsche and Marx.
By the age of twenty-three, London had already traveled across much of the United States and had been to Japan on a sealing ship. His account of a typhoon off the coast of Japan won him a prize from a newspaper.
While visiting Niagara Falls, London was arrested for vagrancy but the experience had a positive effect and when he returned to California he returned to a more formal education. He completed high school and enrolled at the University of California. However, once again financial difficulties forced the suspension of his studies.
In 1897 London was struck with gold fever and he headed for the Yukon to join the gold rush. In 1898, his series titled To the Man on the Trail appeared regularly in the Overland Monthly. His writing improved and when he returned from the Yukon, he established a rigid schedule that would force him to produce written work each day. This diligence paid off and contributed to the volume of work that London was able to create.
In 1900, London published The Son of the Wolf, a collection of short stories. By 1903, he had written in excess of one hundred short works and at least eight full length volumes. The popular classic Call of the Wild was published in 1903. The adventure story describes the journey of a civilized wolf back to its true, wild state.
His writings were not solely adventure stories, however. Also in 1903, he published People of the Abyss which described the pitiful living conditions of the poor in London. A year later, he published Sea Wolf which detailed his experiences aboard the sealing ship earlier in his life.
London is credited with producing more than fifty books in his lifetime as well as many smaller published works and newspaper articles. His work is distinguished by its use of vivid descriptions, fast-paced action and graphic violence and pain. He was a coarse man and suffered kidney problems, likely as a result of excessive drinking. He died at the age of forty.
---