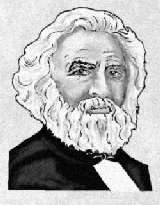 LONGFELLOW, Henry Wadsworth
Born: February 27, 1807, in Portland, Maine, United States
Died: March 24, 1882, in Cambridge, Massachusetts, United States
Henry Wadsworth Longfellow was an American poet who was popular and successful during his time. He is noted for his ability to write about the hopes and tragedies of life in a simplistic style and with technical expertise.
His father was an influential and successful lawyer. Longfellow was educated at the private schools, Portland Academy, and Bowdoin College. He graduated at the age of fifteen. He was heavily influenced at school by the writings of Sir Walter Scott and Washington Irving.
After graduation he began to teach modern languages at Bowdoin. The new curriculum meant that Longfellow studied European culture. His exposure to French, Spanish, and Italian during his travels are reflected in his own works.
In 1831, he married Mary Potter. Three years later, he accepted a position at Harvard, which resulted in another trip to Europe. During this tour, he visited England, Sweden, and The Netherlands where he was deeply affected by German Romanticism. On this trip, however, Mary's poor health ended with her death at Rotterdam. Longfellow felt that her death was his greatest sorrow.
On his return from Europe, he moved into the famous Craigie House which was given to him as a wedding present when he was remarried to Francis Appleton. His second marriage ended traumatically eighteen years later when his wife was fatally burned and died.
From his first book of verse, Voices of the Night, published in 1839 to his longer works, such as Tales of a Wayside Inn, published in 1863, he was a popular, successful, and influential author throughout his life. He was able to leave his Harvard position in 1854 and support himself with his writing.
On his last trip to Europe at that age of sixty -one, he was given honorary degrees from Oxford and Cambridge. Fourteen years later, he published his last poems in a collection, entitled In the Harbor. A few weeks later, he suddenly developed an illness that caused his death.
---