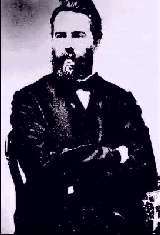 MELVILLE, Herman
Born: August 1, 1819, in New York City, New York, United States
Died: September 21 1891, in New York City, New York, United States
Herman Melville was an American author who based his writing on his own sea experiences. He was not recognized as one of America's greatest authors until thirty years after his death.
He was born into a family of well-established merchants. However, after his father went insane, Melville left school to support his family. His ancestry included a mix of English, Scottish and Dutch. His religious upbringing was based in Dutch Reformed and Presbyterian views, which may account for the themes of good versus evil in many of his works.
After working miscellaneous jobs, he left for the sea at the age of nineteen, working as a cabin boy, whaler, and seaman in the navy. He briefly left the sea to try teaching school, but the venture was short-lived. The sea was Melville's life and supplied the adventures for the stories he wrote.
While sailing the South Seas, he landed on an island inhabited by cannibals. This experience was the first tale, although at the time, he had no intentions of being an author. However, with the immediate success of Typee, published in 1846, he joined the literary circles of New York and Boston. Several books that recount his life aboard ship were also successful. Typee is an account of the month he spent on the island before escaping aboard an Australian ship bound for Tahiti. Melville was criticized at the time for being too sympathetic to native cultures to the point he held contempt for Western ways.
Like most books at the time, Melville's writings were published in Britain to avoid pirate copies. Melville always had a larger readership in England than he did in America.
In 1847, he married Elizabeth Shaw, a daughter of the chief justice of Massachusetts. Together, the couple had four children. In 1850, the Melvilles moved to Massachusetts and befriended Nathaniel and Sophia Hawthorne. When Moby Dick was published in 1851, Melville dedicated this work to Hawthorne.
Although popular today, Moby Dick was unsuccessful at the time of publication. Melville's popularity never returned to the same heights as with his early successes and his subsequent books were failures.
From 1866 to 1885 Melville worked in New York as a customs officer. After suffering a mental breakdown, he traveled through Europe and the Middle East.
---