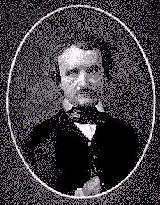 POE, Edgar Allan
Born: Jan 19, 1809, in Boston, Massachusetts, United Stateas
Died: October 7, 1849, in Baltimore, Maryland, United States
Edgar Allan Poe is best known for his short stories of ominous and dark themes. He is considered the founder of the detective story. The best known of his works is probably The Raven.
His parents were David Poe and Elizabeth Arnold Poe, both of whom died just after his birth. He had two siblings, William Henry Leonard and Rosalie. After his parents' death, Edgar was taken in by John Allan, a Scottish tobacco merchant, and his wife. The couple treated him just as if he had been born to them.
His adoptive parents moved to England to establish a branch of the firm for which he worked. Poe studied at the English schools until the Allans moved back to the United States in 1820. In 1826, he entered the University of Virginia, but left for Boston before completing the first year.
In Boston, he was penniless. He published a collection of poems, entitled Tamerlane and Other Poems. However, his lack of funds forced him to enlist in the United States Army. Two years later, his adoptive father purchased Poe's discharge from the army. He published Al Aaraaf, Tamerlane and Minor Poems in 1829.
In 1830, Poe entered the Military Academy at West Point as a cadet. He was dismissed within a few months for neglecting his duties. For his dismissal, his adoptive father disowned him. In 1931, Poe published Poems, Second Edition. The following year he moved to Baltimore to live with his aunt and his eleven year old cousin, Virginia Clemm.
In 1835, he moved to Richmond to work on the Southern Literary Messenger. In 1836, he married Virginia. For about the next eight years, he lived in New York and Philadelphia, working in editorial positions on various newspapers such as Burton's Gentleman's Magazine and Graham's Magazine. During this time, he published several volumes of work, which include: The Narrative of Arthur Gordon Pym, Tales of the Grotesque and Arabesque, and Tales and The Raven and Other Poems. It was with the publication in 1845 of The Raven in the Evening Mirror and the Whig Review that he obtained fame and popular success.
In 1846, he rented a cottage just outside of New York City. His wife died the following year. After her death Poe continued to live at the cottage with his aunt. Two years after his wife's death, Poe died while visiting Baltimore. It is assumed that his death was the result of drug and alcohol abuse. He was buried in Baltimore at Westminster Presbyterian church. At a later date, his wife's remains were moved to a place beside his grave.
"THE RAVEN",1845
"A DREAM",1827
---