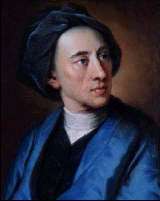 POPE, Alexander
Born: May 21, 1688, in London, England
Died: May 30, 1744, in Twickenham, Middlesex, England
Pope, an English author and translator, was one of the great English language satirists during the Augustan period, and perhaps the greatest author of the eighteenth century.
Pope was born Roman Catholic, in a country dominated by Protestants. Throughout his life he would encounter discrimination, such as double taxation, because of his religion. His father, a tradesman in the linen business, was forced to move his family from London to Binfield, because of the law that prevented Catholics from living within ten miles of London. Pope was tutored by a local priest and had a good basis of Greek, Latin, Italian and French but he was not allowed to attend university because of his religious beliefs.
After his early tutelage he conducted his own studies and proved himself a prodigy. At age sixteen he had already written and published several different types of works. It is thought that he had written Pastorals in 1709.
At Binfield he contracted tuberculosis, and would suffer from asthma for the rest of his life. He was a small man of poor health with an extreme curvature of the spine which along with his informed writing have led some to believe he spent much of his youth studying. By the time he was middle-aged he stood only four and-a-half feet tall, needed someone to help him dress and wore a brace to support his back.
By the early 1700s he was considered a great poet of England and Europe. He began his ascent as a young man when he moved back to London and a year later, after meeting William Wycherley, and William Walsh, he was accepted into a society of writers and intellects including Whig writers Congreve and Atterbury. He established his reputation with satirical pieces such as his Essay on Criticism published in 1711, and The Rape of Lock published in 1714.
After suffering several insults from Whig, anti- Catholic contemporaries, he began associating more with Tories and became friends with Swift. In 1713 he became a member of the Scriblerus Club. It was a short-lived association that wrote about political exploitation and irrational thinking. His continued social and political criticism won him the unofficial title of "the poet laureate of the opposition to Walpole, [the Prime Minister]".
In 1718, after the death of his father, he moved from London, leased a house and lived with his mother at Twickenham on the Thames. In his new residence he completed a translation of Homer's Iliad into heroic couplets in 1720, a work he began five years before. The translation gave him financial freedom to pursue his interests of agriculture and horticulture and ornamental gardening. He also built a shell and mirror lined grotto that reflected the river during the day and the stars at night. He was later ridiculed and called the "undertaker" when it was learned he subcontracted work to other authors on a translation of Homer's The Odyssey published between 1725-1726.
Known as the chief exponent of the heroic couplet he capped his career with his masterpiece, An Essay on Man published during 1733-34. It was the first book of planned four that was never completed. Although the philosophy lacks originality the poems are classic Pope. His poetry was disregarded in the Romantic period only to be rediscovered near the end of the nineteenth century.
Pope never married but left his estate to his life- long companion, Martha Blount.
---