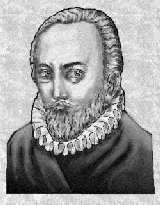 RALEIGH, Sir Walter
Born: Circa 1554, at Hayes Barton in Devonshire, England
Died: October 29, 1618, in London, England
Little is known about Sir Walter Raleigh's early life but as a young man, he attended the University of Oxford, studied law in London and fought in the French religious wars on the Huguenot side. In 1578, he sailed to America with his half brother, Sir Humphrey Gilbert.
Raleigh went to Ireland in 1580 to assist in the suppression of an Irish uprising in Munster. Upon his return to London, he presented himself as an expert on Irish affairs and soon attracted the attention of Queen Elizabeth I. His favor with the monarch and his own expertise soon made him one of the most powerful figures in England at that time.
In 1585, Raleigh orchestrated the first English settlement in America on Roanoke Island. He named the settlement Virginia but he never actually traveled to the settlement himself. The settlement effort failed but he tried again two years later but, again, without success. When he returned to England in 1585, he was knighted.
Raleigh had endeared himself to the queen with his charm and wit but he temporarily fell from her favor when she discovered that he had secretly married one of the her maids of honor. Her anger passed and Raleigh was restored to his position in the court.
King James I succeeded Queen Elizabeth I and he bore an intense dislike for Raleigh. Under charges of treason, Raleigh was convicted and sentenced to death but the king commuted the sentence to life imprisonment in the Tower of London. It was while in prison that Raleigh produced his most significant writings: History of the World in 1614 and the poems The Last Fight of the Revenge in 1591 and The Discovery of Guiana in 1596. His writings garnered him favor amongst the intellectuals of London but his incarceration in the tower continued. Prince Henry, Heir to the throne under King James I, idolized Raleigh and petitioned the crown for Raleigh's release. However, the Prince died in 1612 while Raleigh was still in prison.
In a final attempt to secure his release, Raleigh promised the king he would bring him a fortune in gold if the king would let him return to Guiana. The king agreed under the condition that Raleigh not cause any problems with the Spanish. Unfortunately, the trip ended in disaster. Raleigh's son and an aide were sent to search for El Dorado, but attacked a Spanish settlement. His son was killed during the encounter and Raleigh returned to England where the king ordered him beheaded.
---