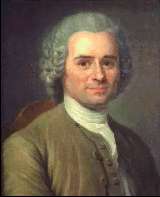 ROUSSEAU, Jean Jacques
Born: June 28, 1712, in Geneva, Switzerland
Died: July 2, 1778, in Ermenonville, France
Jean Jacques Rousseau was a French musician, botanist, writer, philosopher and political theorist. His works are thought to have inspired the French Revolution and the Romantic movement. The aversion to fantasy and anti-intellectualism shared by the collective of female writers in England was put into philosophy by Jean Jacques Rousseau.
Rousseau was the second of two sons born to Isaac and Suzanne Bernard Rousseau. His mother died nine days after his birth. His father, a watchmaker and dance instructor, provided a strong influence for Rousseau, introducing to him at a young age, the works of the seventeenth century French romances and Plutarch. However, he also often abandonded Rousseau, and left him, at age ten, to be raised by an aunt and uncle after fleeing to Geneva to avoid imprisonment for a fight.
At the age of thirteen, Rousseau became an engraver's apprentice. In 1728, he ran away saying that he was forced to endure cruel punishment. He was taken in by a priest who introduced him to Madame Louise de Warens, to whom he had been sent for conversion and baptism into the Roman Catholic faith. She, however, became his mistress. Their on- again/off-again romance continued until 1736 and she had an enormous effect on his life by encouraging him to read and begin writing.
He was often in trouble for fighting and stealing. While living on the run, he took odd jobs as a clerk and a transcriber of music. This experience took him to Paris in 1742 to present to the Academie des Sciences, a new system of musical notation he had invented. The system was rejected by the academy. However, he made contacts in Paris that resulted in a position with the French ambassador to Venice.
In 1745 he met a hotel maid, Thérèse Levasseur. Although their relationship was fraught with problems, they had a total of five children together. All of the children were sent by Rousseau to a foundling home or orphanage. Later, in life he unsuccessfully tried to find the children.
In 1750, he won a prize for Discourses on the Influence of Learning and Art. This work, which attacked the sciences and the arts as tools used by the rich, was the first in a series of works on the theme of natural versus civilized Rousseau argued that science, art, and social institutions corrupted humankind. The views expressed in his works were attacked by Voltaire and the two became enemies.
He fell in love with Mme. Sophie d'Houdetot. However, in his autobiographical Confessions, which was published posthumously, he states that she was just a catalyst for his internal emotions. This book is noteworthy in the emphasis given to the character, rather than concepts and philosophies.
Several of his works published late in his career caused a public or literary outcry. Some of his books were burned at the French parliament. He returned to London and spent time with David Hume while reactions to his books settled down. He returned to France in 1768 using the name Renou.
---