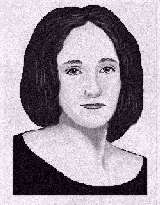 SHELLEY, Mary Wollstonecraft
Born: August 30, 1797, in London, England
Died: February 1, 1851, in Bournemouth, England
Mary Wollstonecraft Shelley is best noted for the popular and time-honored novel, Frankenstein. Although she wrote other novels, travel journals, and verse, none of her works achieved the same success as this terrifying novel.
The daughter of William Godwin and Mary Wollstonecraft, Mary's family was comprised of step and half siblings. Her father was a noted radical philosopher, who wrote An Enquiry Concerning Political Justice. Her mother, a famous woman's rights advocate, died shortly after her daughter's birth. Mary blamed herself for her mother's death.
Wollstonecraft grew up in an atmosphere of deep philosophical and political debate. She was very intelligent and a quick conversationalist. Just before her seventeenth birthday, on a visit home from school, she met twenty-one year old Percy Bysshe Shelley. Wollstonecraft ran away with Shelley almost immediately, even though he was already married. The couple traveled Europe for six weeks with Claire Clairmont, Wollstonecraft's half- sister.
When they ran out of money, the trio returned to London. Percy went into hiding to avoid being sent to debtors' jail until he inherited enough money to cover his debts. One year later, the couple had a son named William.
Later in the year of 1816, the body of Shelley's wife was found in a lake in London. Three weeks after the apparent suicide, Shelley and Wollstonecraft married, but Shelley was denied custody of his children from his first marriage. In that year, they also befriended Lord Byron in Geneva with whom Claire Clairmont had an illegitimate daughter.
After Shelley and Wollstonecraft had their second child, Clara, they left England for many reasons: to try to improve Shelley's failing health; to reunite Clairmont's child with Byron; and to ensure that their children weren't taken from their custody.
Wollstonecraft's novel, Frankenstein, or The Modern Prometheus, was published about this time in 1818. Even though Wollstonecraft was only twenty at the time she wrote the novel, it was both a popular and critical success, and continues to be represented in film and theater productions. Many interpretations of the novel exist, but when viewed in terms of Wollstonecraft's life, the story depicts the cruelty of a society that persecutes outcasts.
When Clara died on a trip to Italy, Wollstonecraft blamed her husband. However, the birth of Percy Florence in 1820 lifted her spirits. Percy was the only Shelley/Wollstonecraft child who survived.
In 1822, days before Shelley's thirtieth birthday, he drowned while sailing his boat the Don Juan. Mary edited his Posthumous Poems and Poetical Works for publication in 1824 and 1839, respectively. Although her finances were secure after she received the inheritance of her father-in-law, Timothy Shelley, she did not have the strength to complete a planned project of her husband's biography.
---