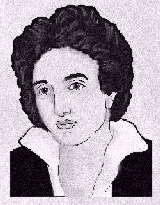 SHELLEY, Percy Bysshe
Born: August 4, 1792, at Field Place, England
Died: July 8, 1822, off the coast of Viareggio, Italy
Percy Bysshe Shelley was an English poet, a humanist, and a Platonist. Thought to be one of the greatest writers of the Romantic movement, he rejected all conventions that he thought stifled human freedom. He believed that universal love was the only solution to humanity's ills.
Shelly was the oldest son of a wealthy land owner, Timothy Shelley. His father was a Whig member of parliament and follower of the duke of Norfolk. Shelley's early education took place at Syon House Academy in Brentford, Middlesex. In 1804, he attended Eton College, where his shy, moody, and sensitive nature earned him the nickname "Mad Shelley."
In 1810, he attended University College, Oxford, where he made a close friend in Thomas Jefferson Hogg. Both men were expelled from the University of Oxford for publishing an atheist text, The Necessity of Atheism, and some burlesque verse, Posthumous Fragments of Margaret Nicholson. They refused to answer questions about the verses and left Oxford on March 26, 1811 for London.
Shortly after his expulsion, Shelley married Harriet Westbrook, who was sixteen years old at the time. They settled in the Lake district of England with hopes of meeting influential literary types. Shelley pursued studies and writing and met socialist philosopher William Godwin, who influenced Shelley's first long work, Queen Mab: A Philosophical Poem . Published in 1813, the poem was directed against organized religion. The character of the queen represents the Church and state as the evil of the human spirit in the past and the present. However, the poem offers hope in the form of love, which can break the evil spell, bettering humanity.
Shelley was not an attentive husband and by this time his marriage was deteriorating. In April 1814, the birth of their daughter Ianthe, pushed them further apart. After Shelley met Godwin's daughter, Mary Wollstonecraft, the two ran away together, traveling Europe for six weeks with Claire Clairmont, Wollstonecraft's half-sister.
When they ran out of money, the trio returned to London. Shelley went into hiding to avoid being sent to debtors' jail until he inherited enough money to cover his debts. During this time Harriet gave birth to Charles Bysshe. One year later, Wollstonecraft had a son named William.
Later in the year of 1816, the body of Shelley's wife was found in a lake in London. Three weeks after the apparent suicide, Shelley and Wollstonecraft married, but Shelley was denied custody of his children from his first marriage. In that year, they also befriended Lord Byron in Geneva with whom Claire Clairmont had an illegitimate daughter.
After Shelley and Wollstonecraft had their second child, Clara, they left England for many reasons: to try to improve Shelley's failing health; to reunite Clairmont's child with Byron; and to ensure that their children weren't taken from their custody.
In 1819, Shelley moved to Pisa where he composed many of his short verses, including Ode to the West Wind, Love's Philosophy, and To a Skylark. Shelley is most often attacked by the critics of the romantic movement who feel that his work is vague and lacks the substance to be in the same category as contemporaries such as Byron or Keats. Other scholars view Shelley as one of the greatest English poets who ever lived.
The last four years of his life prove to be the most productive. He traveled to many European cities, where he formed strong friendships with Leigh Hunt and Lord Byron. Together, they formed the short-lived journal, The Liberal.
When Clara died on a trip to Italy, Wollstonecraft blamed her husband. However, the birth of Percy Florence in 1820 lifted her spirits. Percy was the only Shelley/Wollstonecraft child who survived.
In 1822, shortly before Shelley's 30th birthday, he drowned while sailing his boat the Don Juan. Shelley was first buried in the sand, later his body was cremated. The remains were buried at the Protestant cemetery in Rome, January 21, 1823.
Mary edited his Posthumous Poems and Poetical Works for publication in 1824 and 1839, respectively. Although her finances were secure after she received the inheritance of her father-in-law, Timothy Shelley, she did not have the strength to complete a planned project of her husband's biography.
---