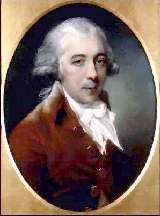 SHERIDAN, Richard Brinsley
Born: October 1751, in Dublin, Ireland
Died: July 7, 1816, in London, England
Sheridan is the playwright credited for resuscitating English drama during the late eighteenth century. He was born into a talented and well educated family. His father, Thomas Sheridan, had an M.A. from Trinity and a reputation second only to David Garrick as an actor. Thomas was manager of the Smock Alley Theater in Dublin, and the author of Lectures on Elocution, published in 1762, which influenced acting and rhetoric during that period. Sheridan's mother, Francis Chamberlaine Sheridan, was a novelist and playwright, most noted for Memoirs of Miss Sidney Biddulph: Extracted from her Own Journal, published in 1761. His grandfather was a Oxford graduate and clergyman who established a school in Dublin which earned the family more than £1000 a year.
Sheridan was baptized on November 4, 1751 but his exact birthday is not known. He was privately tutored in Dublin until the family moved to England in 1762. There, Sheridan attended Harrow School with the intent of becoming a lawyer. At school, he was renowned for his pranks and practical jokes but was never caught by his masters, Dr. Sumner and Dr. Parr. He was a good student and poet and upon matriculation he came home to be privately tutored in law when he was eighteen.
However, he was diverted from his legal career by love. While visiting Bath he was smitten by Elizabeth Linley, eighteen, also known as the Maid of Bath. Sheridan began a romance with the beautiful, intelligent, musician and professional singer. She was lured away from her many other rich and famous admirers by Sheridan's devotion, good- looks, and love poetry.
However, their romance was tainted by a jealous and jilted suitor. Major Mathews, a married man, had used his age and close family ties to court Linley for some time. He had made several indecent proposals which she had rejected. Finally, he had threatened to publicly ruin her reputation if he could not do it in private. After telling Sheridan of these advances, the young couple fled to France where they were secretly married. Linley's father brought his daughter back to England and Sheridan fought Mathews to defend Linley's honor. After losing the first duel, Mathews challenged Sheridan to a second, to save face. The two men clashed, broke their swords, and Sheridan was grievously injured. At this point, Linley confessed to the marriage. With Mathews out of the way, the couple was officially married in Bath and established a home in London in 1773.
So as not to appear an opportunist living from the bank account of his wife Sheridan chose playwriting as his profession. Sheridan's first play was The Rivals produced in 1775. The comedy was unsuccessful on its opening night at Convent Garden, mainly because it was badly performed and one of the characters was found offensive by some of the Irish in the audience. The young author rewrote certain sections, had the play properly rehearsed and it reopened eleven days later in the form that is enjoyed today.
This launched his career as a successful playwright and aspiring to greatness he bought a share of Drury Lane Theater in 1776. All his remaining work would be performed there. His next major coup was the production of The School for Scandal in 1777, a play he adapted and softened from Vanbrugh's The Relapse. The School for Scandal has been considered, by some, the finest of all comedies produced in the eighteenth century.
Sheridan staged his next performances in the British Parliament between 1780-1812. As a member he is best remembered for his role in the impeachment of Warren Hastings in 1788-1794. He held a number of minor cabinet positions but came to prominence with a captivating, five hour speech on the activities of Hastings in Belgium. He was also praised for his speech at the beginning of the Hastings trial. As an orator in Parliament he is considered to be an equal to Edmund Burke.
During his political tenure he relied on the Drury to provide him an income, but he was unable to manage the theater properly. When it burned down in 1809 he was could no longer afford the costs of holding public office and did not run for another term after 1812.
He was buried in Poets' Corner in Westminster Abby next to Garrick.
---