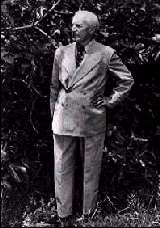 SINCLAIR, Upton Beall
Born: September 20, 1878, in Baltimore, Maryland, United States
Died: November 25, 1968, in Bound Brook, New Jersey, United States
Upton Sinclair was a child prodigy who finished secondary school by the age of twelve and entered City College of New York at the age of fourteen. He began writing at an early age and was selling his stories to the pulp magazines by the time he was fifteen. While at college, Sinclair became a socialist and his political views influenced much of his writing throughout his life. He graduated in 1897 and went to Columbia University for graduate studies. At times he wrote under the pseudonyms Clarke Fitch, Frederick Garrison and Arthur Stirling.
After his graduation, Sinclair married and turned to writing serious novels to earn a living. Between 1901 and 1906, he published five books but each met with little success. The revenue from the collection was barely more than a couple hundred dollars per year.
Discouraged but undeterred, Sinclair published his sixth book, The Jungle, in 1906. Inspired by his trip to investigate working conditions in the Chicago stockyard, the book was a popular success and put an end to Sinclair's financial concerns. With the book's profits, Sinclair established a cooperative living venture that he named Helicon Hall. He abandoned the project in 1907 when the building was destroyed by fire.
In 1911, Sinclair divorced his first wife and remarried two years later. His new wife, Mary Craig Kimrough was also a poet and together they moved to California. Upon arrival in California, Sinclair began working on a series of non-fiction works that lamented the effects of capitalism in America. Naturally his socialist viewpoint gave the work a very definite bias but his work was well received. King Coal, in 1917, The Profits of Religion in 1918, Oil in 1927 and Little Steel in 1938 addressed many parts of American industry that Sinclair saw as troubled or oppressive.
During the depression of the 1930s Sinclair organized the End Poverty in California (EPIC) reform movement. He also ran for political office on several occasions including seats in the United States Senate and House of Representatives, and governor of California.
Sinclair continued to write and publish works well into his later years. Another Pamela, The Enemy Had It Too and A Personal Jesus were all published when he was more than seventy years old. In these later works, he turned away from the more strictly socialist writings of his youth and explored the topics of the rewards of virtue, the atomic age, and his own interpretation of Christ's life and meaning.
---