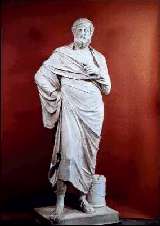 SOPHOCLES
Born: Circa 496 B.C., in Colonus, near Athens, Greece
Died: 406-405 B.C., in Athens, Greece
Sophocles was one of three authors who made up the Attic Poets society. His plays shaped the development of literary works. He influenced the works of Shakespeare, Marlowe, and Freud, to name just a few.
He was the son of a skilled tradesmen in Athens. His family was part of the upper class society, which allowed him to study music with Lampros and theater with Aeschylus. He excelled as a student and lead the chorus in celebration of the victory of Salamis.
He had two wives and one mistress. He had many children, but only one legally recognized son, born to his first wife, Nicostrate. His mistress Archippe was to inherit his estate, but lost it to Sophocles' relatives.
Sophocles produced more than a hundred and twenty plays, of which only a handful are in existence today. His earliest surviving play, Antigone, was first performed in 441 B.C. He won first prize frequently at competitions and is recognized for changing the form of plays. For example, Sophocles used up to three actors in his plays during a time when tradition called for only one actor. Most plays of the time dealt with themes of heroism and gods, but Sophocles felt that plays should be used as a discussion of human inner conflict.
---