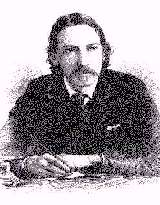 STEVENSON, Robert Louis Balfour
Born: November 13, 1850, in Edinburgh, Scotland
Died: December 3, 1894, Samoa
Robert Louis Stevenson was the only son of a successful lighthouse engineer, Thomas Stevenson. His mother was Margaret Isabella Balfour. As a child, he was plagued by health problems but still managed to receive some formal training at the Edinburgh academy and other schools. In 1867, he entered Edinburgh University to study law and engineering.
Stevenson's life was a continuous search for adventure that led him through much of Europe, America and the South Seas. Often his journeys led him to places where he hoped the symptoms of his tuberculosis would be relieved. His early works An Inland Voyage in 1878 and Travels with a Donkey in Cévennes in 1879 are both reflections of trips that he took through Belgium and France.
In 1879, he traveled to California where he married American Frances Osbourne. He traveled in the United States with his wife and they eventually took a pleasure cruise through the South Pacific, finally settling in Samoa.
Stevenson's work spanned a diversity of genres including adventure, travel, essays and criticism, poetry, short stories and children's poetry. Some of his most popular stories include the suspenseful Treasure Island in 1883, The Strange Case of Dr. Jeckyll and Mr. Hyde in 1886 and Kidnapped, also in 1886. The Black Arrow published in 1888 and The Master Ballantrae are also high adventure stories.
Some of his works in other genres include; Virginibus Puerisque in 1881, In the South Seas in 1896¸ A Child's Garden of Verses in 1885 and The New Arabian Nights. His final work, Weir of Hermiston was published unfinished after his death and is considered his greatest work. He died of apoplexy in 1894 and was buried on a mountain top in Samoa.
---