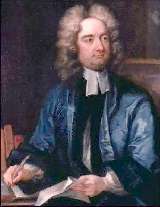 SWIFT, Jonathan Dean
Born: November 30, 1667, in Dublin, Ireland
Died: October 19, 1745, in Dublin, Ireland
Jonathan Dean Swift, an Irish-born English satirist, has been described as a man who hated humanity, but loved individuals. He was an intellectual dedicated to rational thought, but was often irrational believing that humanity failed to live up to his ideals. He was known for his witty, sharp, and fun-loving prose style, which has often been called cynically deranged.
Throughout Swift's career, he held few lifelong allegiances. This may be the result of his own family history. His father died seven months before he was born. After his birth, he was taken in by a nurse who kept him from his mother for three years. Shortly after he was returned to his mother, she went to live with her sister in Leicester and Swift became the ward of his uncles. Swift's paternal grandfather, Reverend Thomas Swift, was an Anglican who was persecuted by the Puritans. His maternal grandfather, Reverend James Ericke, was a Puritan who was persecuted by the Anglicans.
In 1682, he entered Trinity College, Dublin. He excelled in language and literature but performed poorly in philosophy and rhetoric. Before he could finish a master's degree, the college had to be evacuated when King James attacked the country.
Through family connections, he was invited by William Temple to Moor Park, Farnham, Surry, England. He worked on and off with Temple for the next ten years, although their working relationship was unsettled. Here, he met eight-year-old Ester Johnson, known as the character Stella in his works. He remained close to Ester throughout his life. Although some have thought that he was secretly married to her, there is little evidence to prove this theory.
In 1690, he followed King William III to Ireland against James. He obtained a master's degree at Oxford, in 1692 and then became a deacon in 1694. When he became a priest, his first assignment was in Kilroot, Dublin. During this post he fell in love with Jane "Varina" Waring, but she refused his marriage proposal. After only a few months, he gave up his post and returned to Moor Park. After his failed experience in Kilroot, his writing became more satirical.
In 1703, he attempted to find a publisher for A Tale in the Tub, a tale about corruption in the Church, but publishers sent it back to him as inappropriate coming from a clergyman. Over the next few years, Swift changed allegiance from the Whig party to the Tories. He wrote political propaganda for the party, but he still was not rewarded for his efforts with a permanent post in England. Instead, he was given the deanery of St. Patrick's in Dublin, which Swift viewed as exile.
In 1726, Gulliver's Travels, a political and social satire about man's abuse of his greatest gift, human reasoning, was published. The attacks on the political, academic, and social infrastructures were so vicious that Swift had tried to publish under a pen name. The book is comprised of four parts, each of which describes Lemuel Gulliver's findings on his voyages to different lands.
In 1735, Swift's estate was dedicated to the building of an insane asylum in Oxmantown Green. In 1742, he was declared insane himself, and suffered from Ménière's disease for the last three years of his life. He died in 1745 and was buried near Ester in St. Patrick's Cathedral.
---