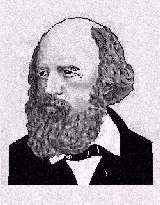 TENNYSON, Alfred, Lord
Born: August 6, 1809, in Somersby, Lincolnshire, England
Died: October 6, 1892, in Aldworth House, Hazlemere, Surrey, England
Lord Alfred Tennyson is recognized as a great Victorian and Romantic era poet. His style of poetry is extremely diversified. His work was influenced by the writings of Lord Byron.
He was the fourth son of Dr. George Clayton Tennyson, a clergyman, and Elizabeth Fytche Tennyson. He was educated at home by his father and then attended Louth Grammar school, followed by Trinity College, University of Cambridge. However, he ended up leaving Cambridge before finishing his degree because of his father's death.
He began writing poetry with his own developing style at a very early age. By the time he was fifteen, he had written several plays and an epic poem. Along with the work of his brother, some of his poetry was published in Poems by Two Brothers in 1827.
His first major work, Poems, Chiefly Lyrical, was published in 1830, the same year that he joined the Spanish revolutionary army. Two years later, he published his second work, Poems, which included well-known pieces such as The Lady of Shallot. Disturbed by the death of his close friend, Arthur Hallman, Tennyson published virtually no work for the next ten years. He did, however, start working on a tribute to Hallman. In Memoriam was published in 1850 and is one of his greatest poems.
A two-volume work, Poems was published in 1842, ending his literary silence. With this publication came popularity among the public. About this time, Tennyson published The Princess, a work that advocates women's rights.
In 1850, Tennyson married Emily Sara Sellwood. He was also appointed poet laureate of Great Britain, replacing William Wordsworth. As poet laureate, Tennyson wrote Charge of the Light Brigade in celebration of British cavalry unit actions in the Crimean War. Tennyson's interest in the ancient legends of the court of King Arthur are detailed in his Idylls of the King. Near the end of his life, he started writing dramas. One of his final poems, Crossing the Bar, metaphorically describes death as a putting out to sea. He requested that this poem appear at the end of each edition of his works.
---