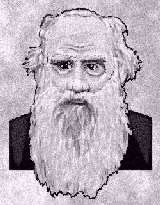 TOLSTOY, Leo
Born: August 28, 1828, in Yásnaya Polyána, Tula Province, Russia
Died: November 7, 1910, in Astapovo, Ryazan Province, Russia
Tolstoy, a Russian author and moral philosopher, is considered one of the world's greatest novelists. He is known as the master of the realistic psychological novel. His doctrines of non-violence profoundly influenced Mahatma Gandhi, among others, and eventually a new sect of Christianity known as Tolstoyism evolved.
Count Leo Nikolayevich Tolstoy grew up in the comfort of aristocracy. He came from a long line of landowners and was tutored at home as a child. He attended Kazan University where he became acquainted with the works of Rousseau. However, disillusioned with the curriculum, he returned to his estate at Yásnaya Polyána in 1847.
Three years later he joined the army in Caucasus. He spent much of his military career amongst the uncouth Cossack settlers, an experience he described in his novel The Cossacks, written in 1854 but not published until 1863. He soon gave up the army and for a while divided time between Moscow and his estate.
He toured France, Switzerland, and Germany in 1857. On returning from his travels he started a school for peasant children at Yásnaya. In 1862 he married Sonya (Sofya) Andreyevna Bers, a middle class girl.
By this period of his career, Tolstoy had already acquired a reputation as a brilliant short story writer with his Sevastopol Sketches (Sevastopolskiye rasskazy) published in 1855 -1856 and as a novelist with Kazaki or The Cossacks. However, it was not until the appearance of War and Peace (Voyna i mir) in 1865-1869 that he was established as the preeminent Russian novelist. Often called the greatest novel ever written, it deals with Russia's defense against Napoleon's invading army. It is said that the entire range of human experience finds expression in this masterpiece.
With a structure regarded by many as perfect, War and Peace combines complex characters in a turbulent historical setting. It is regarded as one of the most influential books on the Western novel because of its great technical achievements.
Tolstoy followed this with another major novel, Anna Karenina during 1873-1876. It is the story of the tragic love of Anna Karenina, and, concurrently, a philosophy of life dramatized through the happy marriage of Konstantin Levin. Anna Karenina continues on moral themes Tolstoy raised in War and Peace. In this book he breached the topic of the ultimate meaning and purpose of human existence.
His views on religion and social reform are articulated in A Confession, written from 1878-1879 and published in 1882, and What is Art? published in 1897. Tolstoy said he endured spiritual crisis in his search for an answer to the meaning of life. Eventually he turned to a form of Christian anarchism and devoted himself to social reform. He believed the role of art was to foster the moral good among humanity. In the later text he developed an aesthetic system, later known as Tolstoyism, that gave art a religious and moral function.
He continued his ethical search for truth in a number of masterpieces such as The Death of Ivan Ilyich, The Kreutzer Sonata, Master and Man, and his last great novel, The Resurrection. Never didactic, his works stand on could stand on their creative merits alone. Among his massive collection of writings he also mastered the genre of drama with the play The Power of Darkness in 1888.
The last twenty years of Tolstoy's life were acted out under the spotlight of his own ethics. After trying to live up to his own teachings and often quarreling with his wife because of them, he eventually left home after a argument and died of pneumonia two days later. A literary giant and a moral pillar he died alone in the remote railway station in Astapovo.
---