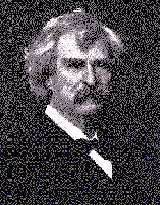 TWAIN, Mark
Born: November 30, 1835, in Hannibal, Missouri, United States
Died: April 21, 1910, in Redding, Connecticut, United States
Mark Twain was an American humorist, writer, newspaperman, and lecturer who adopted his pen name, which means "two fathoms deep," from his days as a Mississippi steamboat pilot. He introduced colloquial speech into American writing and was the most popular writer of his time.
Born Samuel Langhorne Clemens, he was the sixth child of John Marshall and Jane Lampton Clemons. His father, from Virginia, was a dreamer first, an experimenter second and a lawyer third. In his migration westward he married in Kentucky and the family settled in Hannibal, Missouri.
Hannibal was a sleepy community, on the banks of the Mississippi River between Quincy and St. Louis, and it is no coincidence that the scenery and in the atmosphere portrayed in Tom Sawyer and Huckleberry Finn are the same. His father earned a living from a grocery store he kept, his small law practice, and his position in local politics.
Although John Marshall died when Twain was twelve he seemed to adopt many of his father's wandering ambition. In 1847, Sam left school to become a full time apprentice to a local printer. For ten years he set type as a roving journeyman as far east as New York City. In 1857, he took a fateful trip down the Mississippi River towards Louisiana where he met Horace Bixby who offered to teach him to be a steamboat pilot.
When the Civil War closed down navigation, Twain volunteered as a Confederate soldier. After a brief military career he drifted away from the big wheel of the paddle boats and traveled with his brother, Orion, to Nevada. He worked as a clerk and then a miner before embarking on a career in journalism.
He became a writer for the Virginia City Territorial Enterprise. In 1863 he adopted his pen name, Mark Twain. In the spring of 1864, after a quarrel with a rival editor he left Nevada for California.
His first taste of fame came in 1865 with the publication of a tall tale called The Jumping Frog of Calaveras County. Never far from the steamboats he worked as a correspondant for The Sacramento Union in 1866, when the Pacific Steamboat Company inaugurated passenger service between San Francisco and Honolulu. The voyage led to the publication of lectures about the Sandwich, now the Hawaiian, Islands.
He gathered more material on a boat traveling from America to Europe and the Holy Land. His Innocents Abroad in 1869, a lampoon of American tourists in the Holy Land and in Italian art centers, solidified his position as America's leading humorist.
He married Olivia Langdon in 1870 and settled in Hartford, Connecticut. He used the city as a base to launch lecture tours and a headquarters to relax and write. In Hartford he wrote and published The Adventures of Tom Sawyer in 1876. The book was a narrative of youthful escapades that became an immediate and continuing favourite.
Family vacations in 1878 and 1879 provided material for A Tramp Abroad, published in 1880, and The Prince and the Pauper, published in 1881, another novel of boyhood adventures, this time in old England. The Adventures of Huckleberry Finn, published in 1885, and A Connecticut Yankee in King Arthur's Court, published in 1889, soon followed.
His popular image was well established, but his private life became unraveled in the early 1890s. He made untimely investments and enjoyed the roulette wheel to the point of excess and in 1894 he was bankrupt. By cutting corners and forming a serendipitous relationship with an oil executive, Henry Huttleson Rogers, Twain was able to pay his debts within four years.
The Twains returned from Europe in 1900 and settled in New York City. He gave lectures frequently and circulated with the rich and powerful such as Andrew Carnegie and William Rockefeller.
He was honored with degrees from Yale University in 1901, from the University of Missouri in 1902, and from Oxford University in 1907.
Although he was a public hero he was often a caustic social critic. Some of his most bitter attacks exist in The Person Sitting in the Darkness, published in 1901 and King Leopold's Soliloquy, published in 1905.
His pessimism reached its peak over when his wife and two of their three daughters, Susy and Jean, died. At his request his last writings were published posthumously at his home in Redding Connecticut. He will be remembered as a master of the English language in its standard and Western dialect forms, and one of the greatest American authors.
---