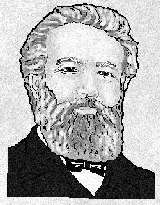 VERNE, Jules
Born: February 8, 1828, in Nantes, France
Died: March 24, 1905, in Amiens, France
Jules Verne grew up in Nantes where he was a pupil at the local lycée before leaving for Paris to study law. After spending some time in Paris, he was drawn to literary work and began writing plays and librettos. From 1852 to 1854 Verne held the position of secretary at the Théâtre Lyrique, and later became a stockbroker while continuing to write comedies, librettos, and stories. He lived in Amiens, France from 1872.
The popularity of his first real success, Five Weeks in a Balloon, published in 1863, inspired Verne to begin writing the works that would make him the father of science fiction. His novels complemented the rising late nineteenth century fascination with science and invention. They make extraordinary predictions about future scientific or technological developments. Twenty Thousand Leagues Under the Sea, published in 1870, for example, familiarized the reader with the submarine long before such watercraft were invented. Motion pictures, helicopters, and even air conditioning are other achievements that he forecast in his books.
Although often neglected by literary scholars, Jules Verne attained a tremendous following. Novels such as Journey to the Center of the Earth, published in 1864, and Around the World in Eighty Days, published in 1873, gained him worldwide popularity and, in 1892, the French government made him a Chevalier of the Legion of Honor.
---