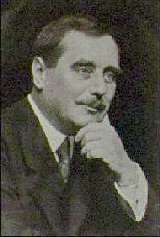 WELLS, Herbert George
Born: September 21, 1866, in Bromley, Kent, England
Died: August 13, 1946, in London, England
H.G. Wells was an English author and political philosopher. His novels are based in science- fiction and most make projections about the future of humankind. He was a prolific writer, producing over eighty books.
He studied biology at the University of London and worked as a draper's apprentice, bookkeeper, tutor, and journalist. In 1891, he married his cousin, Isabel Mary Wells. After they divorced, he married Amy Catherine Robbins and, together, they had two sons.
Wells joined a Fabian socialist group in 1903. He ran as a Labour Party candidate in 1922, but wasn't elected to parliament until 1923. Just before his death, he published a work that explored personality, for which he was honored with a doctor of science degree from the University of London.
He wrote novels that make comments about our civilization and warn of the dangers that may lie ahead. Some of his better known works include: The Time Machine, The Invisible Man, The War of the Worlds, and The Shape of Things to Come.
---