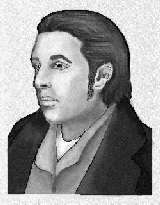 WILDE, Oscar Fingal O'Flahertie Wills
Born: October 16, 1854, in Dublin, Ireland
Died: November 30, 1900, in Paris, France
Oscar Wilde was an Irish-born English poet, novelist, and playwright who often used the pseudonym Sebastian Melmoth. He was considered an eccentric leader of the aesthetic movement that advocated "art for art's sake." His plays are noted for their wit and humor more than their contribution to literature.
He was the son of Sir William Robert Wills Wilde, an Irish surgeon, and Jane Francesca Elgee Wilde, a writer who used the pen name Speranza. He was educated at Portora Royal School in Ennis Killen, then at Trinity College, Dublin, and finally at Magdalen College, at Oxford University. During his studies, he excelled at classics and poetry. An eccentric, colorful character, he wore his hair long and collected peacock feathers. He was often satirized in other people's works.
In 1878, he won the Newdigate prize for his poem, Ravenna. His first book, Poems, was published in 1882, the same year that his first play was produced in New York. Although he produced many plays, he is perhaps best known for his 1895 publication of The Importance of Being Earnest.
Although it was common knowledge that Wilde was a homosexual, he married Constance Lloyd in 1884 and, together, they had two sons. For his boys, Wilde wrote two fairy tales: The Happy Prince in 1888 and A House of Pomegranates in 1892.
Wilde was imprisoned for two years of hard labor after being convicted of sodomy. The scandal virtually eliminated any chance of future success for Wilde. He apologized for his lifestyle in the posthumously published De Profundis. Wilde died of meningitis.
---