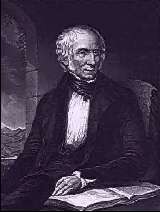 WORDSWORTH, William
Born: April 7, 1770, in Cockermouth, Cumberland, England.
Died: April 23, 1850, in Grasmere, Westmorland, England
Wordsworth was one of the leaders of the Romantic movement and is known for the evocative portraits of nature in his poetry.
He was the second son of John and Ann Wordsworth, one of five children raised by his lower-middle class parents. His mother died when he was eight. And when his father, a business agent died five years later he relied on his uncles for support.
Through their generosity he attended school at Hawkshead and matriculated in 1787. He entered St. John's College, Cambridge later that year, and graduated in 1791. Following his graduation, Wordsworth traveled to France to learn the language and returned to England after four years.
In France, he was infused with passion for Annette Vallon and for the French Revolution. By the time his ardor cooled he was the father of a daughter, Anne Caroline, and his interest in the revolution had become a philosophical one. He never married Vallon and returned to England in 1795.
In the meantime, he had inherited a small fortune and settled in Racedown with his devoted and talented sister Dorothy. He met and became good friends with Samuel Taylor Coleridge, who would become the most significant connection of his career. In 1797 when Coleridge moved into Somersetshire, the Wordsworths followed.
In 1798, the two men collaborated on the publication of Lyrical Ballads, a milestone in English literature. The publication contains many beautiful poems including Lines Composed a Few Miles Above Tintern Abbey. Although the publication received mixed reviews at the time, the first edition sold out nevertheless. Many cite the preface of the edition as Wordsworth's most important verse. In it he rejects values of reason and moral instruction in literature and paves the way for free expression of the imagination, romanticism. Wordsworth tried to apply his theory to his poetry which was written chiefly between 1798 and 1823. His work represents values of humanitarianism, liberalism, and the distinct worship of nature.
Shortly after Lyrical Ballads Wordsworth and Coleridge had an argument during a tour of Scotland which led to a dissolution of their friendship. In 1802, Wordsworth married his childhood friend, Mary Hutchinson, the inspiration for She Was a Phantom of Delight.
With age came conservatism in matters of religion and politics and Wordsworth was therefore embraced by the government which had once censored him. He was made Distributor of Stamps in Westmorland County in 1813 and in 1843, he was appointed Poet Laureate. He died at Rydal Mount and was buried in Grasmere churchyard.
Wordsworth's poetry is read and enjoyed today for its simplicity and clarity in diction as found in, I Wandered Lonely as a Cloud and The Solitary Reaper.
---