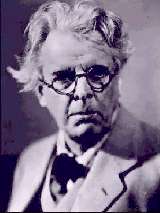 YEATS, William Butler
Born: June 13, 1865, in Sandymount, Ireland
Died: Jan 28, 1939, in Roquebrune, France
William Butler Yeats was an Irish dramatist and poet, encouraged into the arts by both his parents. His father, John Butler Yeats, gave up law and became a noted artist. As a child, Yeats' father read to him a variety of works, including Shakespeare, the Romantic poets, and Irish folk tales. His mother, Susan Pollexfen, developed in her son a love for Ireland that is reflected throughout his writing.
Yeats went to school in both London and Dublin, concentrating on painting. During his childhood, he befriended other poets and artists, most importantly, the members of the Irish Literary Revival. He spent his school vacations in Sligo county, a location that inspired poems such as The Lake Isle of Innisfree. To Yeats, this region was his escape from the harsh realities of life.
After moving to London, Yeats became interested in mysticism, joining the Theosophical Society in London in 1887. He also continued his study of Irish folk legends. In 1889, he published his first major poem, The Wanderings of Oisin. With this poem, Yeats demonstrated his interest in writing Irish-based works, showing the influence of the Irish Literary Revival.
In 1889 while visiting Ireland, he fell in love with Maud Gonne, a beautiful Irish woman. Although she respected him, she was not interested in Yeats romantically. For Maud, an orator and rebel, Yeats took up the cause of the Irish nationalist movement for independence.
He became a close friend of Lady Isabella Augusta Gregory. The pair founded the Irish National Theatre Society, which is known today as Abbey Theatre. Yeats, along with Lady Gregory and J. M. Synge, turned the theatre into one of the best companies in the world. As a dramatist and producer, he wrote several plays for the Abbey, which include Cathleen ni Houlihan and Deirdre. His style during this period is noted for his departure from the sentimentalism of his earlier work.
By 1917, he had been rejected by both Maud Gonne and her daughter Iseult. Yeats married Miss Georgie Hyde-Lees. Together, the couple had two children: Anne Butler Yeats, and William Michael Yeats.
From 1922 to 1928, Yeats became a member of the Irish senate in the Irish Free State. He won the Nobel prize for literature in 1923. In 1925, Yeats published A Vision, a work that discusses the relationships among imagination, history, and the occult. A revised version was published in 1937.
Even with his poor health in his final years, Yeats was a productive and active writer, perfecting his complex style. Some of his best works, such as The Tower and The Winding Stair, were published late in his life.
"DOWN BY THE SALLEY GARDENS", 1889
"THE LAKE ISLE OF INNISFREE", 1893
"WHEN YOU ARE OLD",1893
---